Virtual Vineyard Wine Tasting - Featuring: Duckhorn, hosted by Winemaker, Renee Ary
Event Location:
Zoom Video Conference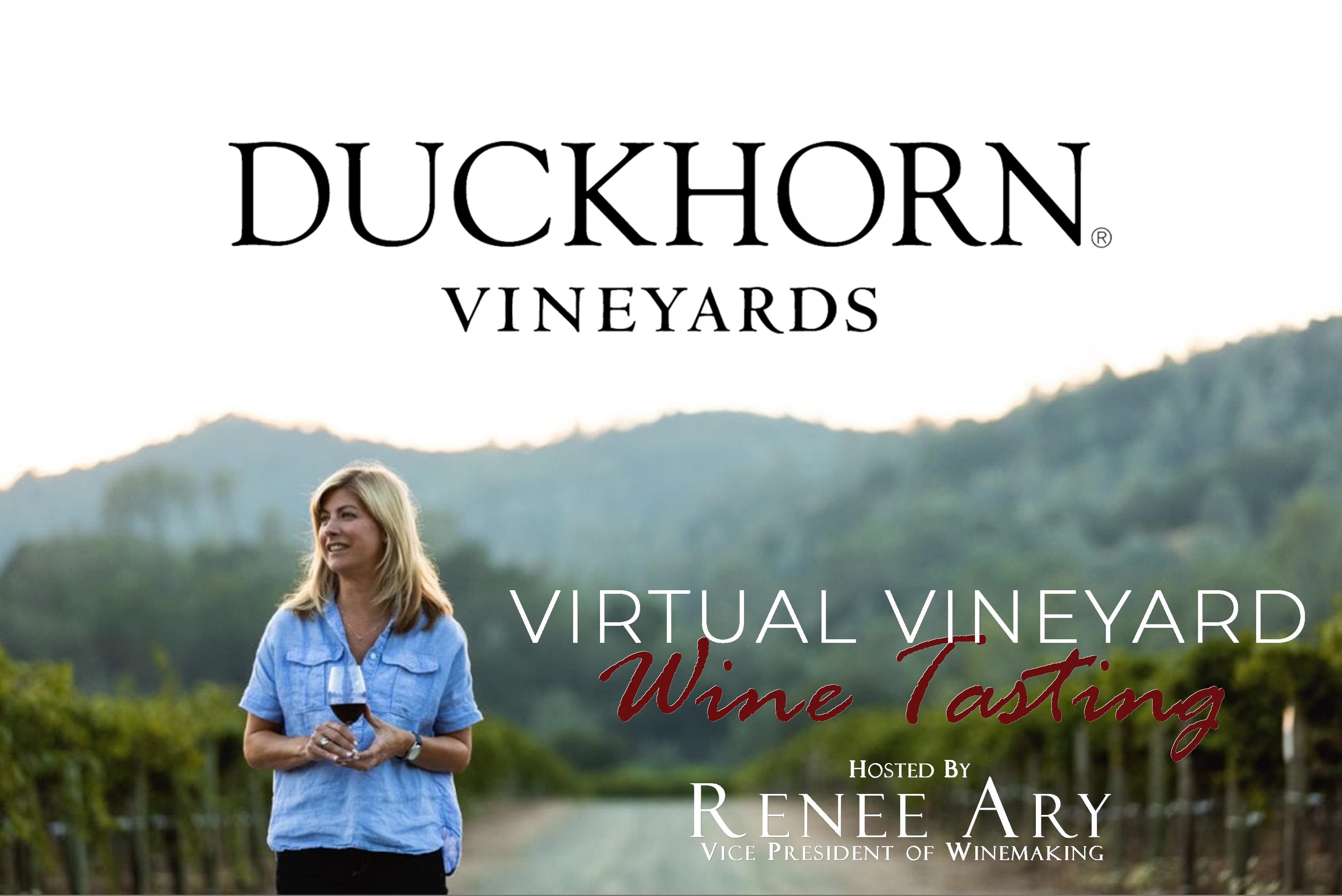 May 21st, 2021
6:00pm
Live on Zoom Video Conference
$225+ per household
(OPTION: $205+ per household without the charcuterie & cheese board)
---
A Napa Valley Classic, An American Icon...
Founded by Dan and Margaret Duckhorn in 1976, Duckhorn Vineyards has been crafting classic Napa Valley wines for more than 40 years. This winemaking tradition has grown to include seven meticulously farmed Estate vineyards, located throughout the various microclimates of the Napa Valley. Focused on quality and consistency, these Estate vineyards are an essential element in making wines of distinction. Pioneering and perfecting Merlot as a premium varietal, Duckhorn Vineyards now makes several elegant Merlot and distinctive Cabernet Sauvignon bottlings that showcase its premium vineyard sites. In addition, the winery is known for its acclaimed Sauvignon Blancs. In 2017, Duckhorn Vineyards Napa Valley Merlot Three Palms Vineyard was named the Wine Spectator #1 wine of the year.
Our host for the evening will be Duckhorn's Vice President of Winemaking, Renee Ary. Just the fourth winemaker in Duckhorn's four-decade history, Renee has spent many years alongside her predecessors, honing her craft, refining her gifted palate, and mastering the Duckhorn Vineyards style. Gather your friends, family, business associates, and clients as Renee guides us through a virtual tasting that will bring the best of California's wine country to the comfort of your own home.
Five incredible Duckhorn wines have been hand selected by Renee herself. Your order will include a bottle of each featured wine and a wonderful charcuterie & cheese board creation by Bentwater's Certified Master Chef, Olivier Andreini.
---
---
THE FEATURED WINES
2018 Duckhorn Vineyards, Cabernet Sauvignon, Napa Valley
2018 Duckhorn Vineyards, Chardonnay, Napa Valley
2016 Duckhorn Vineyards, "Discussion" Red Blend, Napa Valley
2018 Duckhorn Vineyards, Merlot, Napa Valley
2019Duckhorn Vineyards, Sauvignon Blanc, Napa Valley
---
REGISTRATION
1. Reserve your spot at the link shown below
2. Upon confirmation we will send you a Zoom Conferencing link by email with the Zoom Meeting ID#, along with easy to follow instructions.
3. Your wine order and charcuterie & cheese board will be ready for pick-up on May 21st between 12:00pm - 5:00 pm. Tell us when you're on the way, by calling 936-597-2508, and we'll bring it to you curbside at the Clubhouse. We do recommend that you open your bottles of wine 30 minutes before the event begins.
4. At 6:00 pm, grab your phone, tablet, computer or laptop and join us live for a fun evening at the Virtual Vineyard!
936-597-6219
or
If you need to cancel your order, please note that a 72-hour notice of cancellation (by calling 936-597-2508 or by email to reservations@bentwaterclub.com) is required prior to May 21st at 5:00pm, or 50% of the price of the event, plus tax, will be charged to your member account.