Racquet Club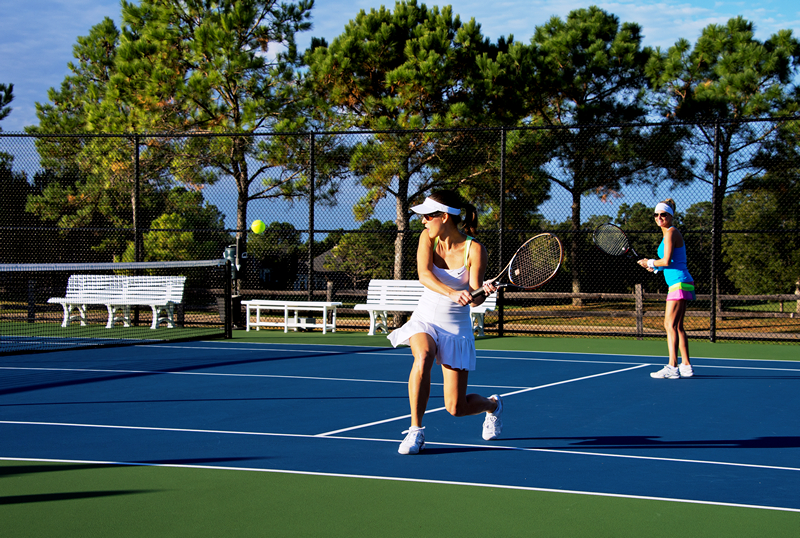 "Advantage Bentwater…"
At almost any hour of the day (and often well into the evening) the tennis courts at Bentwater are a playground for casual tennis enthusiasts and a battleground for competitive players who thrill in a victory. As a member of Bentwater's Racquet Club, you will have access to nine professional, acrylic surfaced hard courts, including a stadium court which seats up to 500, as well as an onsite Pro Shop with top of the line equipment and the latest in tennis fashions.
Bentwater's Racquet Club offers a full array of activities for men, women, seniors, and juniors including a variety of programs such as:
USTA leagues

Regional leagues

Special visiting tournaments

Social Tennis Events

Private and group lessons

Social group play

And a very active Pickleball program!
Whether you are a seasoned, champion-level tennis player or you view tennis as a social sport, Bentwater has a program designed for you. Our tennis pros work together to create a full program that meets every level of play.
The tennis staff at Bentwater offers private individualized lessons, group clinics, mixed doubles, casual matches, and helps coordinate seasonal league play. The Racquet Club also hosts a number of fun-themed tournaments and casual social events.
For more information on Bentwater's Racquet Club and Tennis Facility, speak with one of our Tennis Professionals at (936) 597-2260.